Caldesi in Campagna
Caldesi has been a firm favourite of ours, keeping our appetites satisfied with cook at home lasagne, freshly made crepes and incredible pizza from their weekend foodie market. We were lucky to grab a table just as we went into Lockdown 2 and the experience was so much fun! The setting is quite old school but in a wonderful way, the team are very sociable and entertaining, the food is out of this world and the tiramisu is out of this world! I recommend Caldesi to anyone looking to go for a special meal – it's a little more on the pricey side but well worth every penny!
The Butchers Tap Bar & Grill
There are many irresistible burger joints in Berkshire and Buckinghamshire, there might have to be a post at some point dedicated just to them but for now… head over to the Butcher's Tap. Everyone who goes raves about it – the juiciest of burgers, insane flavours and amazing value for money, their hot dogs look amazing too! I'm not sure what their indoor seating arrangments are like but outdoor are limited – I recommend ordering a take out and enjoying it in Higgy Park/ on a bench by the river… bon appetite! (If you are planning to take away, I recommend downloading the app to order before you go out).
Menu
(No reservations, seating available on a first come first serve basis)
Brasserie & Bar at Monkey Island Estate
On my list of must goes! Very peaceful setting tucked away on Monkey Island and overlooking the Thames, I hear that the food is excellent and I can't wait to go and find out what all the fuss is about! P.S The Afternoon Tea and Sunday Roasts look out of this world!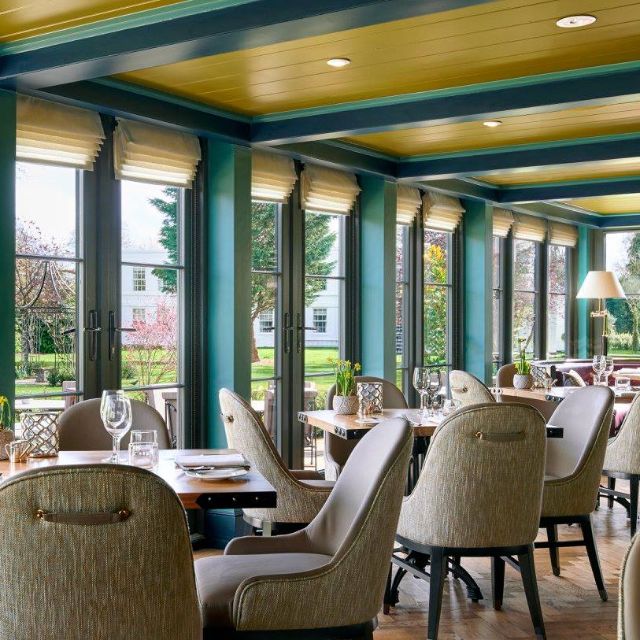 Prime Steak
The Prime Steak philosophy begins with the commitment to offer the quality of a London restaurant, but without the train journey. Their incredible offerings include incredible cuts of beef using the highest quality produce, Bring your own Mondays, Bottomless Brunch on Saturdays and a banging Sunday Roast.
The Crown at Bray
Another favourite of Berkshire Collective. We love their summer marquee set up, incredible cocktails – we love the Strawberry and Basil Smash and great food. We recommend the Fish and Chips and one of the best Sunday Roasts we've ever had! Pre-covid, the garden opens up as an amazing grill where you can order bbq food and salads. I believe at the moment they are just offering a single "indoor dining" menu for under their gorgeous marquee.
Roux at Skindles
Imagine sunshine, cocktails/ a bottle of champagne sipped on this terrace of dreams overlooking glorious views of the Thames. The food is as fabulous as the ambience – led by Head Chef Raj who spent 8 years as first soux chef at renowned The Waterside Inn, Bray.
Sebastian's Italian
Sebastian's have such a wonderful feed on Instagram full of behind the scenes content, raving reviews and a few celebrity visitors! I have been told by a number of friends that their pizza is to die for and their puddings look drool worthy! On a sunny evening they have the most romantic outdoor street set up, you could quite easily transport yourself to a beautiful piazza in Italy without the extortionate covid test fees/ red travel alerts!
Menu
To make a reservation call: 01753 851 418